Real Magic, Real People,
Real. Good. News!
Longtime friends make good on pact to marry at 50 if still single
A deal is a deal. And this one's sealed with a kiss.
Several decades ago — they don't remember exactly when — lifelong friends and high school sweethearts Kimberley Dean and Ron Palmer made a pact. They would marry each other if neither had tied the knot by the time they both had reached 50. Full Story…
---
Boy Asks Mom To Stop The Car So He Can Help An Elderly Woman Up The Stairs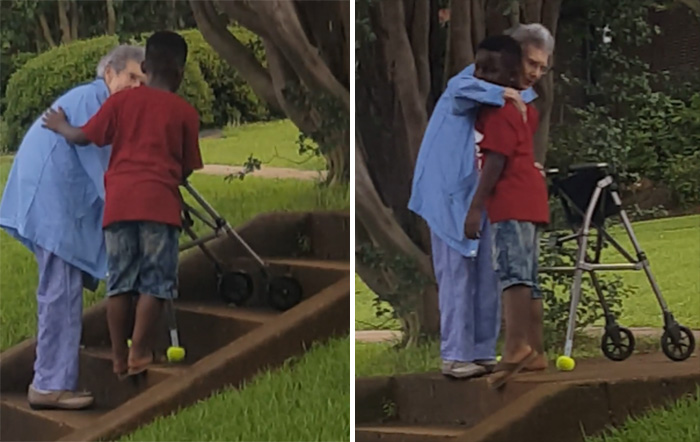 Maurice Adams Jr. was in the car with his mom and sister when they saw an elderly woman crossing the road.
He asked his mom to stop the car, ran over to the woman and held her arm as she slowly took each stair. At the top of the stairs, she gave him a hug and the two went on their way. Watch The Video
---
Meet the Woman Helping Terminally Ill Kids Realize Their Movie-Making Dreams
Tamika Lamison felt on top of the world when, at 28, she headed to Hollywood to pursue a filmmaking career. But when the bogus $112,000 check she received for the sale of her first script bounced, she knew that she wanted something far different than the typical industry experience.
"I started thinking about ways to make a difference. I didn't want to spend all my energy on the grind, going for the brass ring," Lamison, now 48, tells PEOPLE. "I started mentoring and teaching kids filmmaking and I literally fell in love with watching youth fall in love with making films and sharing their stories." Full Story…
---
Loving Husband's Detailed Morning Routine for Wife with Dementia Will Make You Cry
Mary Jane Gacono has struggled with dementia for nearly a decade — and her loving husband, Carl, has been at her side every step of the way.
Carl has been eager to have his wife remain at their Annville, Pennsylvania, home for as long as possible, taking charge of most of her care. But one recent morning, Carl, 88, had a doctor's appointment and had to enlist the help of the couple's daughter, Becky, to help care for Mary Jane while he was away.
While she stepped into her dad's shoes, Becky got a special look at Carl's super specific (and sweet) morning routine for his wife of nearly 68 years. Full Story…
---
Cat Finds New Home After Walking 12 Miles Back To Owners Who Rejected Him
Things are looking up for a North Carolina cat who walked 12 miles to get back to his former home, only to have his owners surrender him to an animal shelter and ask that he be euthanized.
Luckily for the fluffy orange cat, named Toby, the shelter refused to do so. Instead, they transferred him to another shelter Full Story and Video…
---
Dog's Unique Birthmark is Encouraging People to Share 'Remarkable' Things About Themselves
People constantly stop Veronica Peterson on the street asking about Judge's unique birthmark.
Judge is her 1-year-old Golden Retriever, a pup distinguished by the mark on his muzzle that looks like a black smudge.
Peterson, who is a lawyer in Reno, Nevada, says his mark was the main thing that drew her and her husband to choose him.
The more that people commented on Judge's birthmark, the more she felt compelled to ask those people to identify what makes them "remarkable," too. For the last eight months, she has been documenting people's responses on social media – and their answers are pretty heartwarming. Full Story…
---
4 Steps to Quintuple Your Business in the Next 12 Months
If you want to scale from $20,000 per month to $100,000, there's a four-step process you need to take.
Which may sound too simple, because the thought of quintupling business growth in under 12 months may sound impossible. I'm here to tell you it isn't because I have done it myself (as well as helped clients do the same). Full Article…
---
3 Ways to Stand Out on LinkedIn
LinkedIn is where business decision-makers live. If you want to make powerful connections and forge a path for yourself, your brand or your business, it's important that you find a way to stand out on LinkedIn. However, too many of us don't focus on LinkedIn. We prefer to post on Facebook, Twitter or Instagram, or else skip social media altogether and focus on other aspects.
In this video, Entrepreneur Network partner Kate Volman breaks down three ways you can stand out on LinkedIn and make the most of this important social platform. Watch The Video
---
The One Small Change That Helped This Woman See Major Ab Results
When it comes to reaching a healthy weight, most of us think it can't be done without dieting. But Australian influencer Cass Hines believes that the answer lies not in depriving yourself of any food but changing how much you eat and how often.
In a recent Instagram post, Hines explained how portion control has helped her trim her midsection and leave her feeling better than ever. She also shared a before and after photo illustrating how this strategy worked for her. Full Article…
---
'I Lost 30 Pounds by Eating a Bigger Breakfast and Smaller Dinner'
I was always very fit in high school — but all of that changed once I hit college. I started living the typical student lifestyle: studying all day in the library, eating vending machine snacks, working (and eating) at a bar and restaurant in the evening, and partying all night with friends. Full Article…
---
Wanna share your own Majic?
---
Use the email below to submit your stories and we'll consider them for an upcoming Daily Majic.
Share@Majically.com