The Daily Majic – 5/10/18
"Connections with other people affect not only the quality of our lives but also our survival."
Dean Ornish
Today's Daily Majic!
---
Beloved school janitor donates $175,000 estate to Kentucky child abuse victims
Kentucky's attorney general joined teachers and students Tuesday in northern Kentucky to honor a 32-year employee of the Covington Independent School District. (Watch The Video)
After his December 2015 passing, Alvin Randlett donated his estate, more than $175,000, to the Office of the Attorney General's Child Victims' Trust Fund. The donation helps to protect children from abuse, a cause Randlett embraced while serving as a janitor at the Sixth District Elementary School.
"How amazing is that example of pure selflessness and generosity, putting others before yourself. And it's an honor to honor him today," said Kentucky Attorney General Andy Beshear. – Full Story…
---
He searched for his Japanese birth mother. He found her — and the restaurant she had named after him.
It began with a heart attack in the Pentagon parking lot in pre-dawn darkness. Air Force Col. Bruce Hollywood was on his way to work and found himself on the ground, thinking: "This is where it ends."
Later, as he lay in the ambulance racing to Walter Reed Army Hospital, two regrets popped into his head. One was that he wouldn't be able to help his son with his college applications. The other was that he never thanked the Japanese woman who gave birth to him, then gave him up for adoption in 1960.
It took that heart attack in 2005 for Hollywood to set out to find his birth mother, something his adoptive mother, who had passed away, had repeatedly encouraged him to do. Before that, he said, he never felt something was missing. His adoption was not something he had reflected on much. Full Story…
---
She lost her mom, she barely speaks – but this businesswoman defies her disability
Emma Sykes was just a toddler when she learned about perseverance. Her mother took her to enrol at 10 different preschools. They all turned her away.
"We had one particular school who were fine with Emma enrolling until they found out she had Down syndrome," her dad recalls.
"Within five minutes they said 'oh actually, we made a big mistake, we actually don't have any placements available'."
As a teenager, Emma lost her mum, Carolyn, to cancer. Father Tony has brought up Emma and her younger sister Nicki, who also has Down syndrome.
After too many setbacks and rejections to count, 22-year-old Emma Sykes has started a candle business – named Downlights after her syndrome. Full Story…
---
4-year-old superhero getting lots of love for crusade to help homeless
America's latest superhero is now taking the country by storm, and people are smitten with Austin Perine and his unique super power — feeding the homeless.
"It's just the right thing to do," Austin told us. (Watch The Video)
By day, he's a mild-mannered 4-year-old from Birmingham, Alabama. But about once a week, Austin turns into this alter ego, a superhero set on feeding as many homeless people as possible. He goes by the name "President Austin." Full Story…
Majical Miracles
---
12-Year-Old Boy Trapped Underwater for 8 Minutes Returns to School: 'It's a Miracle'
The mother of a 12-year-old boy who was trapped underwater for eight minutes at a resort pool in South Carolina said that her son has returned to school just over a month after the harrowing ordeal left him in a medically induced coma.
Evan Pappas of Michigan was swimming in the lazy river at the Avista Resort in North Myrtle Beach on March 19 when a piece of his young friend's goggle broke off and fell under a grate in the floor of the pool, the boy's mom, Alyssa Pappas, told local outlet WDIV.
By the time police arrived to help the boy, he had been underwater for a total of seven minutes and 40 seconds, NBC News reported. "
The entire ordeal has "been very traumatic for our family," Alyssa told Today. Now — despite the odds — Evan is back at school, though he'll have to continually be monitored for potential brain damage. Full Story…
Majical Animals
---
Dog who 'doesn't know he's deformed' finds true love after years of neglect
For longtime animal lover Jamie Hulit, all it took was one look to fall in love with a yellow Labrador with a smooshed face named Beaux Tox (or Beaux for short).
She then drove out to his owners' house to pick up Beaux later that evening. But Hulit, 47, was greeted by a "horrible" sight upon arrival: The dog had been living in the backyard for five years without any love or attention, weighed a measly 42 pounds and had never been treated for fleas or heartworm. He didn't even have a bed. No one wanted this beautiful guy and it didn't look good for the poor lab, but love proves to be the most powerful force once again.
Hulit fell unconditionally in love with this wonderful animal and took on the daunting task of shooting for not only a full recovery, but the happy and healthy life she believed Beaux deserved.
Since going home with Hulit for good, Beaux, now 108 pounds, is "happy about everything" — even going to the vet. "The only thing he'll get sad about is if he doesn't get belly rubs on demand," she joked. Full Story…
---
Unexpected animals bring comfort to area hospital patients
Four the past four years, Andrea Ebert has been traveling around the state with her mini horses.
Palm Bay Fire Rescue was responding to a house fire when firefighters found out the homeowner was still inside the building trying to save her cats.
One place the horses visit often is HSHS St. John's Children's Hospital. The horses trot their way to Springfield almost once a month.
"Our very first visit to St. Johns, there was one little girl. She had been in the hospital for weeks," Ebert says." After we left, her mother told me that was the first time she had smiled in weeks."
The hospital asks the community to participate in the "Make May Matter" campaign. Program Coordinator for the Children's Miracle Network at HSHS St. John's, Dave Newton, says the horses help the children heal. Full Story…
To donate and learn more about Make May Matter please visit This Link.
Succeeding Majically
---
"Possible Pat" weight loss success inspiring others around the world
Pasquale Brocco is perhaps better known as "Possible Pat", because he did what many would say is impossible. Watch The Video.
Brocco once weighed 605lbs as a body guard, and had difficulty getting up the stairs. Now, after losing more than half of his weight, Possible Pat is inspiring others across the world that anything is possible, if you believe in it.
Now, Bronco considered the 2017 transformation champion for the WBFF, weighing in around 280lbs.
Brocco now has over 300,000 followers on Instagram. He's a certified trainer, and is going for his pro card in body competitions. Most importantly, however, Brocco now has a new perspective on life, and says every morning, he works to help others struggling with addiction to find the strength to overcome it. Full Story…
---
The Secrets of the 'High Potential' Personality
Are you curious, conscientious and competitive? Do you also have the more mysterious qualities of "high adjustment", "ambiguity acceptance" and "risk approach"? If so, congratulations! According to new psychological research, these six traits constitute a "high potential" personality that will take you far in life.
Majical Remedies
---
'The 5th Dementia' uses music as medicine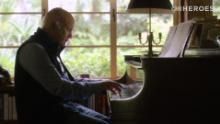 Carol Rosenstein's husband, Irwin, was diagnosed with Parkinson's disease in 2006. Three years later, he was diagnosed with dementia.
With the progressive nature of the diseases, Irwin had ups and downs. Medication caused him to experience hallucinations. As his condition worsened and the couple grew increasingly isolated, Rosenstein said she could feel Irwin slipping away.
June 2014 was a particularly difficult period for the couple, when Irwin was not responding well to medications. Then something seemingly miraculous happened: Rosenstein heard him playing the piano. Watch The Video
Irwin had played saxophone and piano throughout his life. But this was the first time she heard him play in the eight years since his diagnosis. Rosenstein observed that he seemed more aware, responsive, energetic and communicative.
"I was at my wit's end, and finally something positive happened," she said. "The music actually resurrected him." Full Story…
---
Wanna share your own Majic?
---
Use the email below to submit your stories and we'll consider them for an upcoming Daily Majic.
Share@Majically.com