"Real happiness is cheap enough, yet how dearly we pay for its counterfeit."
Hosea Ballou
Today's Daily Majic!
---
Once homeless, mom now opens her doors to others in need
Je'net Kreitner was living on the streets when she was 36 years old, after facing years of domestic abuse. She did what she could to keep her son safe. After getting back on her feet, she eventually started taking in others who were experiencing homelessness. This led to the beginning of Grandma's House of Hope. (Watch The Video)
---
A mom with terminal cancer sees her son graduate in a special hospital ceremony.
It's probably the most powerful force on earth – A mother's will when it comes to her children.
Like many parents, Stephanie Northcott dreamed of the day she would get to see her son Dalton walk across the stage to receive his high school diploma.
Stephanie's son, Dalton Jackson, finished all his requirements and was set to graduate from Halls High School in Halls, Tennessee, on May 18.
But doctors were afraid she wouldn't make it, so her friends and loved ones worked to bring the graduation to her. Full Story…
---
For six decades, 'the man with the golden arm' donated blood — and saved 2.4 million babies
A life saving operation performed on a 14-year-old Australian boy named James Harrison, led him on a journey that has saved an estimated 2.4 million babies.
Harrison told the Red Cross that he is eager for his legacy of 1,173 donations to be surpassed.
"I hope it's a record that somebody breaks, because it will mean they are dedicated to the cause," Harrison said. It's quite amazing to see the power of human decency lead to so many years of dedication. Full Story…
---
He smokes, he drinks, he enjoys life: America's oldest man turns 112
Richard Overton, America's oldest living man and the world's oldest living World War II veteran, is celebrating his 112th birthday on Friday.
Overton might be the greatest proof that happiness and positivity is the best kept secret for longevity. And this particular combo seems to be defying all odds. He smokes a dozen cigars a day (smoking increases cancer risk). He enjoys whiskey and coke (alcohol is reported to cut life expectancy). And he wakes up with multiple cups of coffee (California is adding cancer warnings to coffee), the newspaper reports. (Watch The Video)
His secret to longevity? "Just keep living, don't die." That's what he told comedian Steve Harvey over a decade ago. Full Story…
Majical Miracles
---
Mother's Day miracle: Doctors bring baby, mom back to life when no one expected them to survive
A Kansas City woman is celebrating Mother's Day this weekend even more so than most because doctors say it's a miracle she and her baby are alive. Watch The Video
"Truly one of the miracles I have seen in this profession … two people that really should not be sitting here at all, and the fact that they're both here and both completely healthy and normal is nothing short of a miracle," OB-GYN Dr. Kristy Weaver said. Full Story…
Majical Animals
---
Women Form Pre-Mother's Day Bond Rescuing Ducklings From Sewer Grate
"After the mom and babies were reunited, we were all so excited we did a group hug," said Bonnie Wymard. "We were jumping up and down. It was an emotional moment."
For four women who were complete strangers just a few hours before, the rescue has created a bond. "It's a pre-Mother's Day celebration by us duck moms," said Bureman.
Those women say they're now friends for life after this unforgettable rescue. Full Story…
---
The couple who care for stricken dogs in an Indian beach town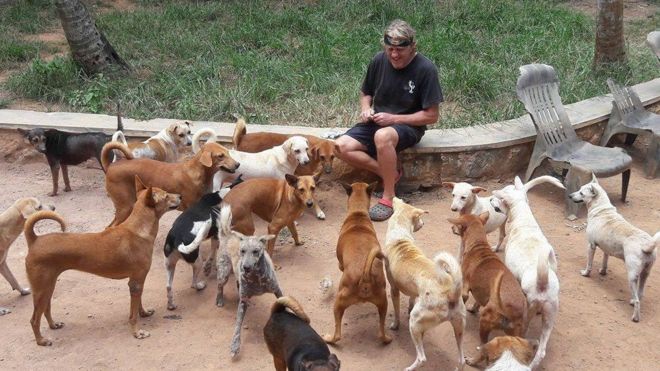 After spending some time in Gran Canaria, Mary and Steve Muscroft booked a two-week package holiday to Kovalam in Kerala, south India.
They did not get on their return flight.
Instead, they stayed to look after two dogs that had captured their hearts.
Ten years on and they now have almost 100 dogs, run an animal clinic with three staff and have set up Street Dog Watch Association – an organisation that rescues stricken dogs and feeds, vaccinates and sterilises the area's strays. Full Story…
Majical Success
---
His Parents Loaned Him $30,000 to Start a Company. Now It's Valued at $1.7 Billion.
In 2003, Anthony Casalena's parents gave him a $30,000 loan to help get his business idea up and running. Fast-forward to 2018 and it would appear that Casalena is more than able to pay that loan back. The company he started with the $30,000 is Squarespace, the website-building resource that now has over 800 employees and its logo emblazoned on the jerseys of the New York Knicks. Also, according to Bloomberg, a valuation of $1.7 billion. Not too shabby. Full Story…
Majical Health Tips
---
The 7 Mental Health Benefits of Running That You May Not Know About
In the stressful times we live in, the importance of fitness and exercise cannot be highlighted enough. Many people tend to go for running since it is the most convenient option – after all, it only requires a pair of running shoes and your own motivation; and no equipment or gym membership is needed.
However, running does a lot more for your health than you may realize. In addition to keeping you fit, here are 7 ways that running also helps to improve your mood. Full Article…
---
Doctors in California Are Prescribing Food as Medicine, and It's Keeping Patients out of Hospitals
You are probably aware that healthy eating can prevent a lot of illnesses, but it turns out that receiving proper nutrition can actually make the chronically sick healthier too. That's why some Medicaid patients suffering from chronic or life-threatening illnesses are now being prescribed food in addition to medicine. It's part of an effort to increase health and reduce health care costs—and there's some solid evidence that it'll work. Full Article…
---
6 Ways to Make Your Morning Coffee Even Healthier
Coffee lovers have happily embraced the headlines about the health perks of java: Aside from supplying a significant dose of antioxidants, a daily coffee habit may also help ward off a host of ailments, including type 2 diabetes, Parkinson's, and colon and breast cancers. To max out the benefits of your beloved cup of joe, give these six tips a whirl. You might find you enjoy your a.m. ritual even more. Full Article…
---
Wanna share your own Majic?
---
Use the email below to submit your stories and we'll consider them for an upcoming Daily Majic.
Share@Majically.com